Ok – so perhaps I haven't been a good girl all year, but I have shown moments of kindness… like the time I gave my boyfriend the last jammy dodger, the number 1 biscuit in our household. Ok. So I may have dropped it. And it may have been cleaned by the dog, Buster, aka death breath, but I gave him the last one, that means a lot, right?
But overall, I think I have been quite good, not my potential best, but certainly not my worst… surely Santa will grace me with his presence this year, and will leave behind s*%t loads of presents?? I promise to leave a mince pie out (but can't promise I wont scoff it when I get in after the annual booze fest with the girlies). who said Christmas was for children right???
I'll be a very Lucky Saddle if I get any of these in my stocking this year…..
I never thought lycra could look 'sexy' but I think Gore may have just got it right.. I love this bib, the design looks like it would give my tiny boobs the lift they need, and I have been told the bib is waterproof??! now, I am always sceptical when it comes to garments saying they are 'waterproof', I have proven this concept wrong on far too many occasions. So before I part with any money, if anyone can agree, or suggest leggings other than these Gore Wear Power 2.0 Thermo Women's Bibtight – let me know!!
---
I need these in my life… especially the day I  ploughed into a skip lorry and was donning my big pants, 4 years old, with holes. I remember the embarrassment when my trousers were cut open by the paramedics… that day I vowed to wear nicer pants, at the very least, pants with no holes. Ok, they are not cheap, at £45 a pair, its more than I have ever spent on 'lingerie' but if they have padding and make me look like this then I'm sold!! there are 6 designs but these are my favourite!
---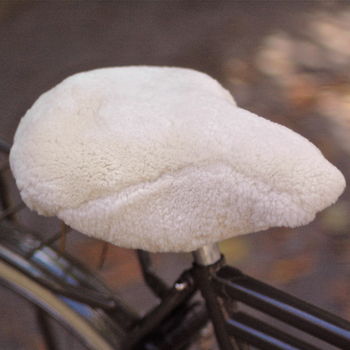 So… I love my bike, and my matching pink and black saddle, but there are times when quite frankly that saddle brings tears to my eyes… this seat cover is soooooo wrong, on so many levels, but I kind of want it! I'm pretty sure its not hygienic, but damn it looks comfy!! www.notonthehighstreet.com
---
Anyone who knows me, knows I am pretty s*@t at repairing and maintaining cars, and bikes, and anything mechanical. I'm the one that 'threw' away a car wheel after a blowout (I didn't know it just needed a new tyre), and sent my Mini Clubman to an early grave with the deadly 'death rattle' – who knew oil was so  important?? I'm also known at the local bike shop for my 'rusty chain' and usually have a new one every year. So I LOVE the idea of these clip on mudguards – surely idiot proof?? we will see… its definitely time for mudguards, or perhaps I should just wear my wetsuit for the commute….
---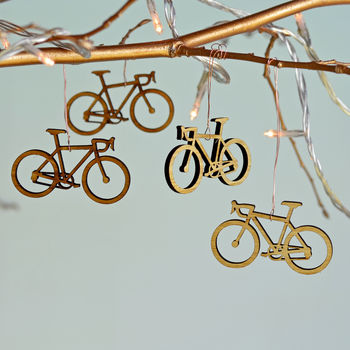 Well, if I had a Christmas tree this year (blame the child that completely ignores the words 'no', 'gentle' 'leave', especially when the dog is around) I would have these little beauties hanging off every branch – I love them! from one of my favourite websites – www.notonthehighstreet.com